Today I'm very excited to share an interview with fellow Star Wars artist and co-founder of the UK based production studio, Digital Progression, Mr. Maclolm Tween! I met Mal last year at Star Wars Celebration in Anaheim, and was blown away by both his work and his welcoming personality. Mal's artwork utilizes a variety of digital production techniques such as 3-D modeling, digital painting, and photo manipulation, and he has worked with a long list of clients in the advertising, gaming, and film industries. Just this past weekend, he exhibited his fantastic work at Star Wars Celebration in London, and, if you're a UK citizen, you may have even seen his art on your Royal Mail postage.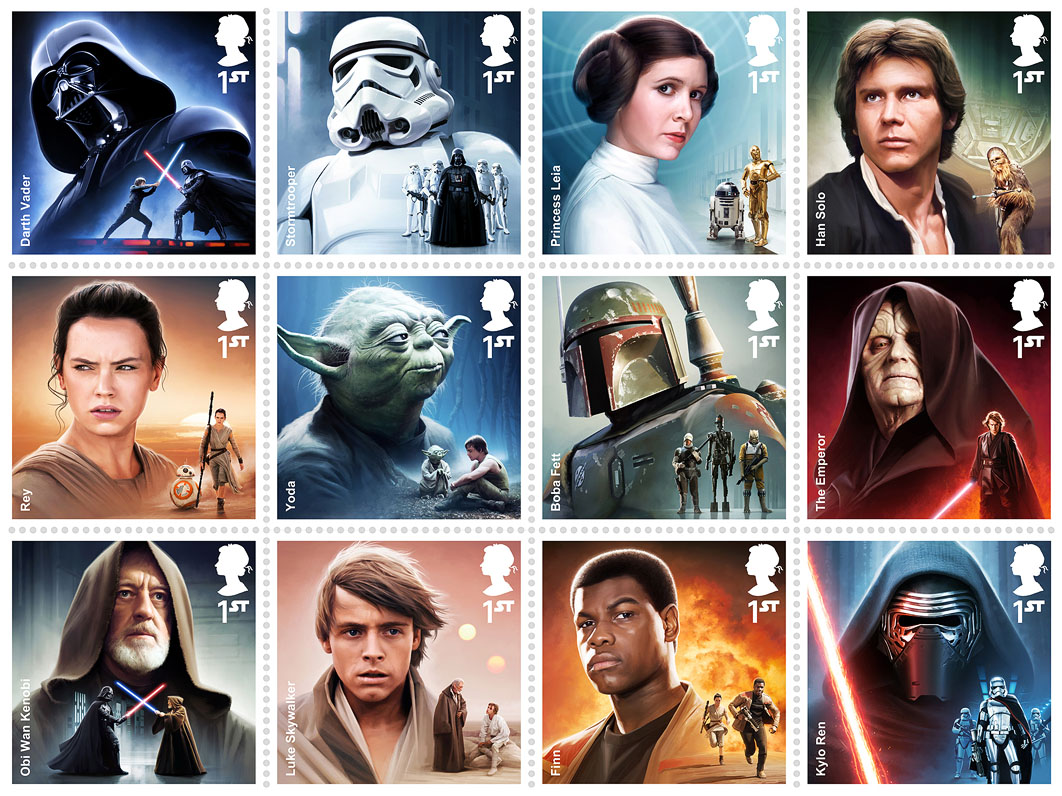 Star Wars character portraits for the Royal Mail. How friggin' cool is that?!
I could go on and on, but it wouldn't be much of an interview if I didn't let him do some of the talking. So let's get to it!
JM: Could you tell us a little about yourself and your artistic path so far? How did you get your start as an illustrator, specifically in advertising? How did you go about starting Digital Progression?

MT: Absolutely, I always wanted to 'draw stuff' for a job, I studied Technical Illustration at art college, airbrushing cutaways of aeroplanes, engines and things, although I really wanted to be drawing spaceships and robots instead... but it did give me an excellent grounding in a lot of technical theory that I wouldn't have learnt on a more generic art course.

When I left college I did the traditional (pre-internet) freelance route of trawling round publishers for a couple of years, slowly picking up clients. I'd always been really interested in computer graphics, the technology was extremely basic at the time, but what had been only available on very expensive SGI workstations was slowly filtering down to desktop PCs and Macs. I managed to get in on the first wave of affordable 3D software, although this is at a time when Photoshop still didn't even have any layers so it was pretty basic stuff! One of the publishers I was working for could see the potential of digital illustration after seeing some samples, and after a couple of years of doing more and more digital work and less traditional, I picked up an agent who was really interested in using CGI for advertising projects.

It's easy to take it for granted now but it was completely new at the time and a lot of clients had complete 'pixel fear' of anything digitally generated. CG was however a perfect match for videogame publishing work, so I also ended up doing a huge amount of work for games companies; promo images, advertising, pack art and probably a couple of hundred magazine covers.

There was a pretty small field of people doing CG then, a few freelancers and two or three studios. After a while the logical step seemed to be to start up our own studio to take on bigger projects, so we set up Digital Progression in 1997.
JM: For so many artists, doing licensed work on a property like Star Wars is something of a lifetime goal. Was this the case for you as well? How did you get your start working with Lucasfilm?

MT: Yes definitely, although not just the fact it was licensed but more the type of content. I think my original goals were driven by the stuff that made me want to draw in the first place, sci-fi book covers, movie posters, 2000AD, thing like that, so videogame work ticked a lot of those boxes. Slowly you end up working on a list of jobs and clients you've always wanted to, and as a Star Wars fan, Lucasfilm obviously being one of the ones at the very top of the list. Luckily my route in to Lucasfilm was extremely straightforward, I was recommended to the LFL art directors by a friend who was working in the Art department at the time and I jumped straight on to working on the Revenge of the Sith style guide, which was the kind of image bank for the movie. A very simple route in, but one that wouldn't have happened without all my previous work.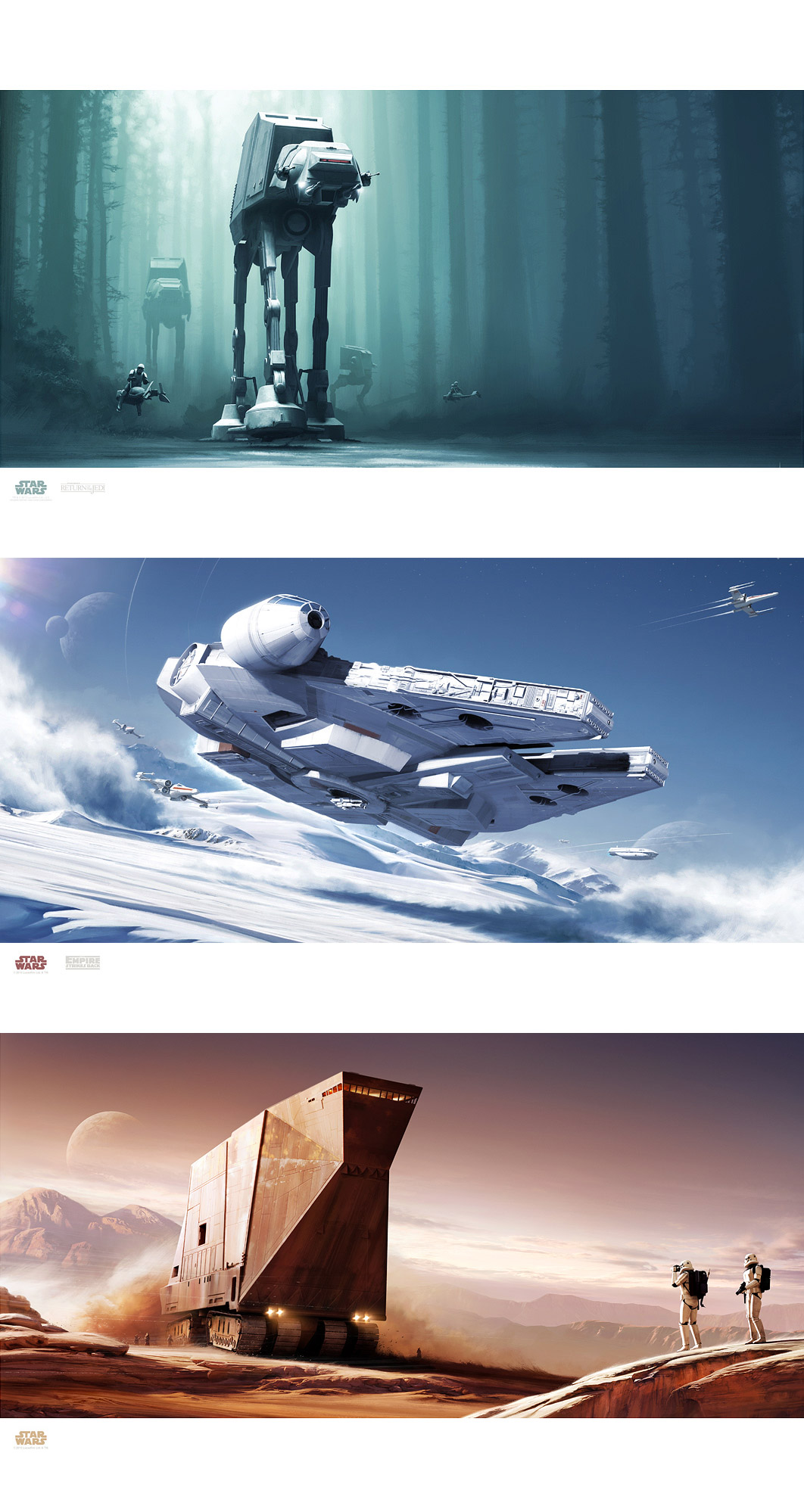 Star Wars Celebration Limited Edition Prints
JM: Can you break down your working process for us a bit? Since you work primarily in-house at a production studio, does your process change much from project to project (or client to client)?

MT: Yes, pretty much everything we do is in-house (there are only two of us). It varies a lot from job to job but most is a combination of 3D and Photoshop work. A typical job would be modelling/texturing 3D elements and compositing these into a 3D and/or photographic background. The exception is generally Star Wars work which is probably about 25% CG as a base and then painted in Photoshop to get a more traditional style.

JM: When using a CG 3D model as a base for a painting or retouching, how much of the final look are you typically shooting for in the render?

MT: We'll try and get any CG elements as close to finished as we can in the render, but ultimately it'll all depend on the deadline and artwork size, if there's a lot of background elements that we can use photography for then we'll use that, if it's quicker in CG then we'll model it. Sometimes we can work on super high-res files, especially for things like billboards or outdoor media, so the size can sometimes dictate what we can or can't do.

Much like photography, very rarely do you get an image straight off the render that won't need some Photoshop work, even if it's just grading/balancing etc.. but on more complex images we might be building an image from a hundred different elements, CG or photographic. For more painted style work then any CG is really just a quick base, none of it really ends up in the final version.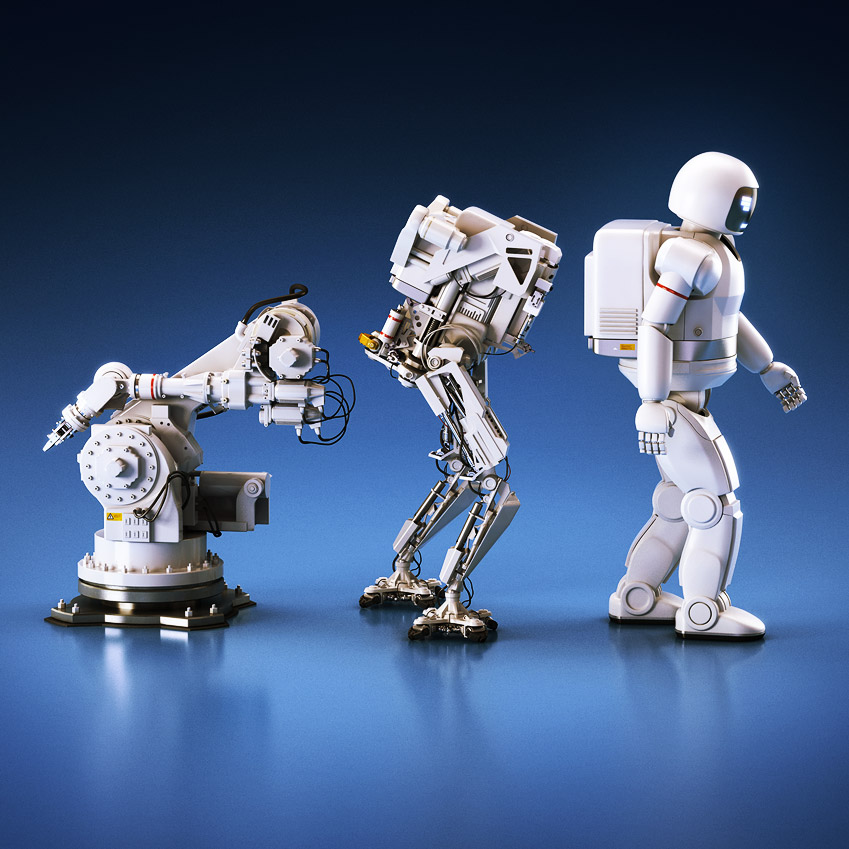 "Robot Evolutions" for Associations Now
JM: When doing a photo illustration, do you typically try to make the photos match a concept, or tailor the concept to the available photography?

MT: Concept is king! We're generally working to quite a fixed brief so the concept always comes first and we have to find a way to make it happen, which is where a lot of the challenge comes in.

JM: What do you find to be your most useful and most detrimental work habits?

MT: Actually, not especially interesting, but good organisation is probably really important, and an ability to work under pressure. Generally, advertising deadlines in particular aren't very flexible and can have an extremely short turnaround, so you can't afford not to plan properly. In tandem with this, just being objective with what's possible before you take a project on. Sometimes jobs just aren't feasible for the time or budget and you have to know when to say no.

The hardest thing is probably learning to stop, It's really easy to obsess over small details that no-one else will notice (or care about) or try and make every single part perfect. It can take a long time to learn when to let go and the appropriate level of work applicable for a job, not all are equal!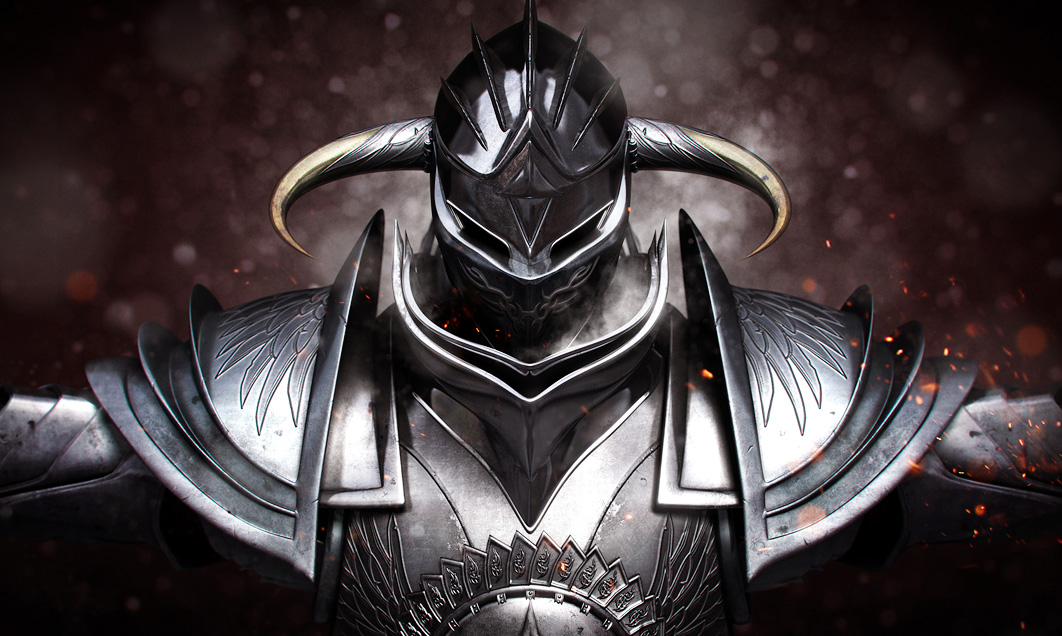 Aktor/Knights
JM: What part of the creative process do you enjoy most? Which part do you find the most frustrating?

MT: The problem solving aspect used to be really interesting, when you're sitting there thinking 'how am I actually going to do this?' and then find a way to pull it all together, especially in the early CG days as we were largely making everything up as we went along. But now I actually find the really basic stuff the most satisfying, just working up the first super rough versions which have a nice aesthetic simplicity before everything gets inevitably overworked.

The most frustrating thing is ultimately watching external direction slowing destroy something potentially really good, when there is little or no understanding about the creative or technical processes. Also, someone else 'retouching' artwork after we've handed it over, and hearing the words 'we need a layered file, so we can move things around...'

JM: What hopes do you have for the future of your work? Any dream projects still on the horizon?

MT: I think actually to do much more personal work, something I've regretfully neglected for a long time. I'm actually very lucky to have worked for a lot of companies and properties that I'd always wanted to, but having said that I'm still ready for the EP 9 poster, Half Life 3 box art or next Aphex Twin album cover :D
Many thanks again to Malcolm for sharing his work and agreeing to my incessant probing! If you'd like to see more of his work, then run yourself over to www.digitalprogression.co.uk right now!
Gif courtesy of Crow_ on Reddit
All images in this post are © their respective owners and used with permission. All Rights Reserved.
Got questions or suggestions about this post? Leave a comment!